Relieve Pain Caused By Peripheral Neuropathy?
We offer drug-free & surgery-free solutions!
At Lighthouse Medical Center, our cutting-edge approach to addressing the stabbing, numbing, and burning pain linked to peripheral neuropathy has helped many patients reduce or eliminate their discomfort. Our treatments are:
FDA cleared
Covered by insurance, including Medicare
Safe, effective, and fast
Opioid free
Non-surgical
… and there's no downtime with these therapies.
OUR APPROACH
Simply put, peripheral neuropathy is a condition that can cause debilitating pain and throw your life upside down. Not only do you have to deal with the discomfort, but normal daily activities can become a struggle.
We have patients approach us weekly, frustrated with the feeling that they've tried "everything" to help with their nerve damage pain, only to find no resolution.
The good news is, you can find relief - and you've come to the right place.
We provide all-natural, opioid-free, non-surgical solutions that actually work. We aim to uncover the underlying issue around your condition, to help reduce the pain, and in some cases, eliminate it altogether.
✘ Eliminate Throbbing Hand & Foot Pain
✘ Stop Depending On Pills As A solution
✘ Eliminate the Tingling & Burning
✘ No Need to Waking Up In Pain
✘ No Sleep Interruptions at Night, Due To Pain
✘ Stop "Settling" With Treatments That Cover Up the Real Issue
✘ Eliminate Side Effects from Medication
✔ Wake Up Pain-Free
✔ Prevent Surgery
✔ Enjoy More Energy to Do the Things You Love
✔ Walk Carefree, Again
✔ Get Active Again!
✔ No More Wasted Days
✔ Enjoy a Pain-Free Life!
HOW CAN WE HELP YOU?
What is Peripheral Neuropathy?
The peripheral nervous system is a large "communication network" that sends messages between the central nervous system (your spinal cord and brain) to all other parts of your body. When the nerves within this system are damaged, patients can experience balance issues, numbness/tingling, as well as burning and stabbing pain in the area affected.
There are a variety of causes behind peripheral neuropathy, including:
• Inadequate blood flow to your nerves.
• Chronic infections.
• Diabetes (toxic sugar levels in the blood).
• Pesticide exposure.
• Genetic.
• Auto-immune illnesses.
Across the U.S., approximately over 30 million individuals suffer from some type of peripheral neuropathy pain; however, this number could be higher as not everyone with symptoms of the condition is tested. In addition, not all tests look for all the different forms of neuropathy. Unfortunately, the illness is misdiagnosed quite often, thanks to the wide range of symptoms there are.

To learn more about Peripheral Neuropathy, click here
---

Your Own Body's Healing Innovative Neuropathy Treatment Options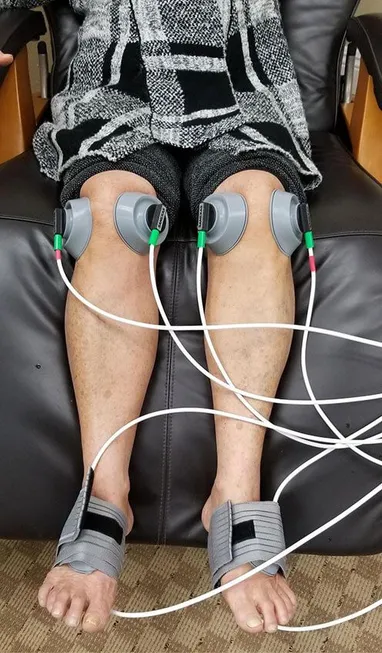 Medications are not only a temporary solution to neuropathy pain, which merely cover up the issue short-term, they can also create unwanted side effects. At Lighthouse, we provide our patients with natural alternative treatments that are both non-surgical and drug/opioid-free. One is NeuroMed's Electroanalgesia (EA), with the MATRIX System software version 1/1.0; a medical device that is FDA cleared, and has a clinical indication of use to:
1.) Stimulate peripheral nerves, with the goal to offer pain relief.
2.) Improve local blood circulation.
3.) Manage and offer long-term symptomatic relief of chronic pain.
Often referred to as "Electroanalgesia" (EA) therapy or "Physical Medicine Treatment", it utilizes the application of frequency .1 - .5 Hz (Physical Medicine Treatment) and 5,000 Hz, 8,300 Hz (Electroanalgesia) to achieve a number of goals, including the reduction of analgesia, inflammation, and edema, as well as the facilitation of metabolism in the neuropathic extremity. Electroanalgesia (EA) places a specially designed hand garment or conductive sock electrodes over the affected area. The strength of EA is to decrease the ability of the patient's affected nerves to transmit pain signals and, at the same time, promote healing by means of the depolarization effects on the nerve cells.
This medical device uses specific pre-programmed patented software algorithms to bioelectrically stimulate differing and desired physiological mechanisms of actions from frequencies starting at .1 Hz - .5 Hz (for activation) and switching throughout the therapy to include a frequency of 5,000 Hz. In addition, this state-of-the-art technology uses a High-Definition frequency generator (HDfg)™ that produces higher frequencies, (8,300 Hz) to inhibit the nerves. The EA technology continually uses a certain carrier frequency, plus, the doctor changes the dosage (intensity) of the current treatment to perfectly match parameters sent at the right time.
EA has an impressive success rate, with 75 to 80 percent of patients reacting well to the treatment and enjoying long-term results. With that said, there's never a "guarantee" with any therapy, and approximately 20-25% of patients claim little or no relief, over longer periods of time. As such, it's key to consider all treatment options presented.

---
THERE IS HOPE
It's Time To Get Your Life Back!
While other treatments may have failed you, our peripheral neuropathy therapies will succeed.
We can help treat the following pain issues:
Peripheral Neuropathy
Diabetic Neuropathy
Pain Caused By Other Degenerative Nerve Conditions
Nerve Damage
Chronic Nerve Issues
Motor Nerve Damage
Sensory Nerve Damage
Autonomic Nerve Damage
---
THIS STUFF WORKS
The Top 4 Benefits To Lighthouse's Neuropathy Treatments
By understanding the root cause of your neuropathy, and creating a customized treatment plan, our approach is a cut above the rest. This protocol helps decrease – and at times – eliminate our patients' nerve pain, so they can move forward with their active and busy lives.
Here are 4 other benefits of our treatments.
1. More Energy
The pain from peripheral neuropathy can be debilitating. This might mean you have to take time off work, refrain from outings with friends and loved ones, and it can cause plenty of sleepless nights. Reducing and eliminating that nerve pain means you can finally get some good sleep, which also means you'll have plenty of more energy to jump back into the things you enjoy.
2. Your Mobility Will Improve
Chronic neuropathy can affect your ability to get around, which includes walking. There's nothing harder than having to ask for help to get to your bedroom, kitchen, or even bathroom. Our treatment plans don't only help decrease pain and discomfort, they'll improve your mobility, too. No need to worry about a walker – or possibly wheelchair in your future. Just make sure you have shoes with great support!
3. Enjoy Your Favorite Exercise, Again!
Exercise is not only good for the body, but good for the soul too! It's one important key to living a long, healthy, and happy life. Sadly, those who suffer with neuropathy find exercise hard to do. It's difficult to try and get out to the golf course, ski hill, or community pool when dealing with so much pain. The good news is, once that pain is gone, you can move forward with resuming your favorite exercise activity.
4. No More Pills!
No more long lineups at the pharmacy, waiting for your medication! No more icky days of feeling nauseous, tired, and constipated from your medication. No more worries about bringing your medication while on vacation or out of town. No more pills are needed after our treatments, as most patients experience long-lasting results!
---
Time To Get Back On Track … Pain Relief Is Just A "Click" Away
(Due to the high demand for our pain services, appointment times are limited)
SCHEDULE YOUR CONSULTATION NOW!
Call Us Now
What are you waiting for? Our team is on standby, waiting to help you!
Consultation
We look forward to getting to know you and your condition so we can set up a personalized treatment plan that will reduce or eliminate your pain.
Procedure Day
It's a small step into our offices, and a giant leap that will catapult you towards decreasing your pain.
Pain Free Life!
Before you know it, you'll be living your best (pain-free) life.
---
OUR STORY
Based in Pompano Beach, Florida, Lighthouse Medical Center provides comprehensive medical care in an office that embraces comfort and luxury. Our friendly staff pay close, personal attention to every patient, ensuring each one has the time needed to express their concerns and talk with their provider. Under the guidance of our medical staff, the practice also welcomes patients from the surrounding areas in Boca Sunrise, Plantation, Ft Lauderdale, Cooper City, West Palm Beach, Weston, Miami, and Coconut Creek
With a dedication to integrated care, the team at Lighthouse Medical Center offer individualized treatments from homeopathic and modern medicine. We care deeply for each patient, and have expanded our services to ensure they had the latest technology and resources necessary to relieve pain and restore optimal functioning, whether that means getting back into the game or simply enjoying an exuberant life. Professional athletes, patients suffering from ongoing pain or chronic health conditions, and the youngest family members will all find a medical home here.
---
REVIEWS

What our patients are saying about us.
Patrick Crowley (REALTOR)
A miracle=🏆Dr.Jason Cheshire and John Kaplon and the staff couldn't be nicer. They are so caring, and listened. I came in with extreme pain in my lower back condition called spondylolisthesis, also neuropathy with Extreme pain in my feet. NOW with Wharton's jelly treatment/infusion=Amazingly=Now NO PAIN! 😇Miracle of science !
Jeff Mumford
I went in for a $30 trial offer I saw on Instagram. I'm a candidate for knee replacement and as a 42 year old coach and avid fitness enthusiast, I've been looking for other therapies to help me feel pain free and prolong the need for the replacement.
Sam
Dr. Jason Cheshire is great at his craft! I feel like a new person especially after being adjusted by him. I was recommended by a friend about 2 years or so ago and I haven't gone anywhere else since. Staff is nice and friendly and the office is always clean. I definitely recommend him to any and everyone!
---